Shopping for the Ultimate Gift: Plush, Designer Bathrobes
Shopping for the Ultimate Gift: Plush, Designer Bathrobes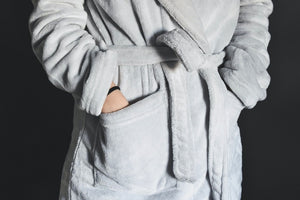 When it comes time to shop for the holidays or a birthday, why not give the gift of luxury? After many years of doing our own gift shopping, we've learned that comfy designer bathrobes make for one of the best possible gifts …for anyone on your list!
The reason why bathrobes are so perfect is simple: Everyone can enjoy the feel and coziness of a high-quality robe, but a surprisingly small number of people actually buy them for themselves. It's just not an item that many people think of when putting together a shopping list. Instead, most folks encounter plush robes while on vacation or at the spa, enjoy them, and then leave the experience behind when they head home.
But why not enjoy that robe year-round? (It sure does make those stay-at-home spa days that much more authentic!) Here's a few tips for selecting the perfect robe:
Where to Purchase
It's true that bathrobes aren't as readily available in retail stores as they used to be, but that's perfectly okay. The truth is that online retailers typically have a much better selection of robes, and they offer them at lower prices. This is especially true when shopping for the best quality, most luxurious robes, most of which simply aren't available in department stores.
At Home or Outside Use
It's worth thinking about where the robe will be worn. If you're choosing a robe for use at home, comfort is the top priority. On the other hand, choosing robes that will be used poolside or at the beach means that the look will come into play. Thankfully, there are plenty of stylish designer bathrobes available that are perfect for being seen in.
Quality
Regardless of where you buy the robe or what style you choose, quality is always a factor. You will want to ensure that the robe is not only comfortable and attractive, but also that it will last through many days and nights of use.
For finding great quality at low wholesale prices, I definitely recommend check out this online supplier: