Spa, Salon or B&B: Cozy Slippers and Robes Will Make Your Customers Happy!
Spa, Salon or B&B: Cozy Slippers and Robes Will Make Your Customers Happy!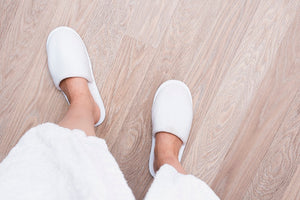 If you're at the helm of a salon, spa, bed-and-breakfast, or hotel, then you know that hospitality can be a competitive business. You've probably also learned that it can be the little details that help one location stand out against the others. A customer's experience within your business is a combination of all those minute details, after all.
In hospitality, much of the customer experience is centered around the senses. Their sight is pleased by spectacular views. Their taste buds are dazzled by the restaurant downstairs, while the piano in the lobby gives the newly-arrived something to listen to.
All of these points are critical overall, but one must never forget the tactile sense – the sense of touch. On trips, people are often seeking an escape from the norm. They want to taste new foods, meet new people, see new sights. They also want to strip off their uncomfortable work attire and relax in something more casual.
This is where two small but incredibly important details come into play: the bathrobe and slippers. On a profit and loss sheet, they're almost trivial, but in the mind of the customer, these items can be the key to a truly memorable stay. With that in mind, there's really no reason to leave out this detail when planning the experience for your own guests!
Top-quality, luxurious robes and slippers are available to suit a range of needs. Companies such as Alpha Cotton offer a full spectrum of styles and fabrics at wholesale prices that make the investment a real no-brainer for any manager. Choosing robes and slippers that fit your location's mood, theme, and climate is easy. Best of all, their robes are made from the best quality materials and QC-checked to ensure they'll last through the rigors of commercial use.
We highly recommend checking out their catalog, even if you already have robes in your location (you might find something you like even more!) When you decide to provide plush bathrobes and slippers to your guests, we know they'll thank you!