Wholesale bathrobes for women's – Dressing for Comfort
Wholesale bathrobes for women's – Dressing for Comfort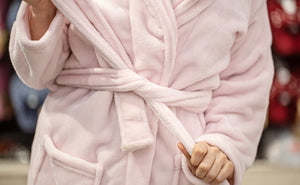 Whenever you talk about comfort dressing for women or men, bathrobes take one of the highest spots. Elegant and comfortable at the same time, wholesale bathrobes for women can be used indoors as well as outdoors without much fuss. Available at great prices at alpha cotton, wholesale bathrobes for women are just the ideal dressing for comfort. Whichever design, style or fabric you want in your bathrobe, you can easily find all of it in the bathrobes offered by alpha cotton.
High quality satin or cotton bathrobes exude luxury and comfort like no other dress, be it for men or women. For having such elegant experience, all you need to do is to visit the offerings of Alpha Cotton where wholesale satin robes are available at great costs and in all sizes. These amazing prices for bathrobes are offered to the customers since Alpha Cotton cuts the middleman's commission and instead offers it to the customers.
You can choose from bathrobes with hoodies or with the ones having a couple of front pockets that can come in really handy from time to time. These also come with an adjustable waist belt, thus making them free size, and relieving you of all your size related worries. These amazingly designed wholesale satin robes are available for men, women and kids at Alpha Cotton.
Alpha cotton also has an extremely customer friendly return policy and dependable delivery mechanism, to go with the unbeatable prices and amazing variety. All the wholesale bathrobes for women offered by alpha cotton are made from high quality fiber and are very durable which means that there won't be any recurring expenses on your part. The wholesale bathrobes for women at Alpha Cotton are available in a wide range of fabric types, including waffle, terry, velour and jacquard.